Lanka Motor Spare Parts Dealers Association
We are pleased to launch our new website that will provide improved access to the products and services of the members of Sri Lanka motor spare parts dealers association.
On this web site you will get information about the association, about the Executive Members of the association and Events & News of the association.
Also, we invite you to visit our Members Directory to details about products and services supplied by them.
The initiative to establish association web presence was an idea of Mr. Gamini Hettiarachchi and supported by the executive group of the association in aiming to get online access to our members' products and services and helping them to serve their clients better.
President's Message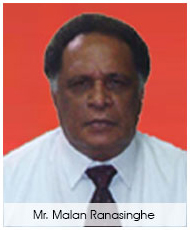 We have come a long way since the establishment of the Association. As a business community supplying parts and other services to the very important transport industry, we have a big responsibility in developing our services to suit the requirements of the nation. Until such time we produce our own spare parts with acceptable quality standards, we need to import and supply our customer's quality products at the best prices. Our membership, supplies genuine, original equipment manufacturers parts and high quality replacement parts to the nation. We totally discourage any body selling low quality or spurious parts.
We as local suppliers will have to face tough competition from franchise holders of major vehicle manufacturers. We always welcome healthy competition but unethical practices of anybody should be thoroughly opposed by uniting together and making representatives to relevant authorities.
We will take steps to educate and encourage our membership to give the best to its customers. We also appeal from our beloved customers to buy products from our member organizations.
Whilst thanking the membership for appointing me as the president, I appreciate very much if the membership could make suggestions, participate actively in the activities of the Association, work together and make your Association a dynamic organization. That will make this Association a strong one for the benefit of the membership, customers and for our nation mother Lanka, as a whole.
Downloads
All Motor Spare Parts List of Panchikawatte
Constitution of Lanka Motor Spare Parts Dealer's Association